The SL Robot
A unique twist to your event with our LED robot. It shoots lasers, co2 gas,  changes colors and walks around the crowd. Provides an unforgettable experience for all of your guests.
Photo Booth Lounge
Give your friends and family a gift of memory. Have them step in front of our high tech photo booth, for a fun entertaining experience.
Blocks of Life
Beautiful large letters that will decorate your party and give a romantic mood. 3D letters for your wedding celebration, birthday party, corporate event, school party.
Dancing on the Clouds
As you start your first dance, your dance floor is transformed as if you are dancing on the clouds. The clouds rise only 12″ from the floor, so you will still be the center of attention. The white, fluffy chilled air gives the illusion that you are actually dancing on the clouds! It is the 'wow' factor that will have your guests scrambling for their cameras.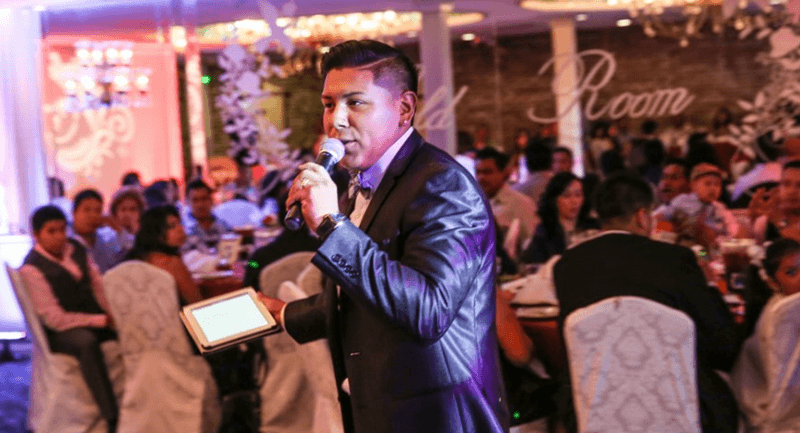 Master of Ceremony
Announces when special events are about to take place, such as the throwing of the bouquet. In addition, the Emcee generally interacts with the audience on order to encourage guests to dance and have fun. We have Bilingual Entertainers.
Exclusive All-White Setup
From white speakers to white moving heads to our custom DJ Booth, only at SL Entertainment. This is a great way to take your event the next level and impress your guests.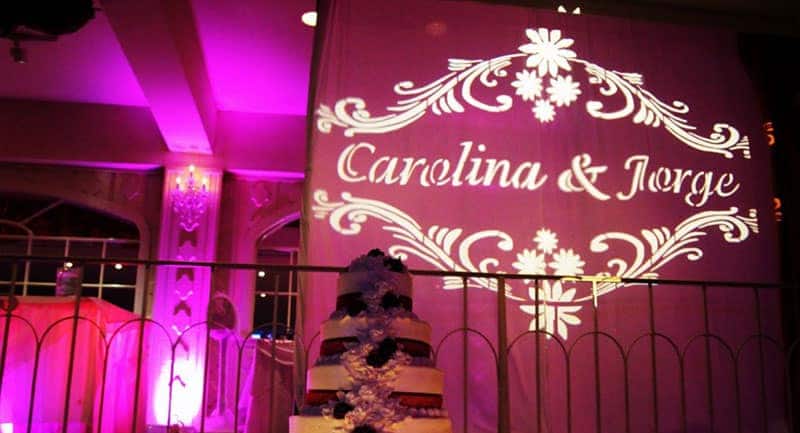 Monogram Name Projection
Have your customized monogram elegantly projected on the dance floor or above your table. This is a great way to add a touch of class and elegance to your event.
Crazy Hour "Hora Loca"
A party within a party. La Hora Loca is meant to be a high-energy transition from the first part of the reception, which focuses on the wedding traditions like speeches and the first dance, to the bona fide, no holds-barred party, which often goes in the wee hours.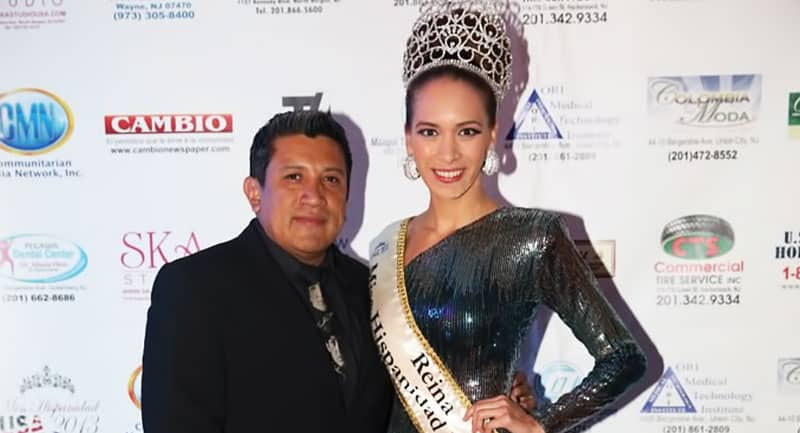 Step and Repeat
A step and repeat banner provides an ideal backdrop for events by attracting media attention and excitement, while highlighting a logo, brand or graphic.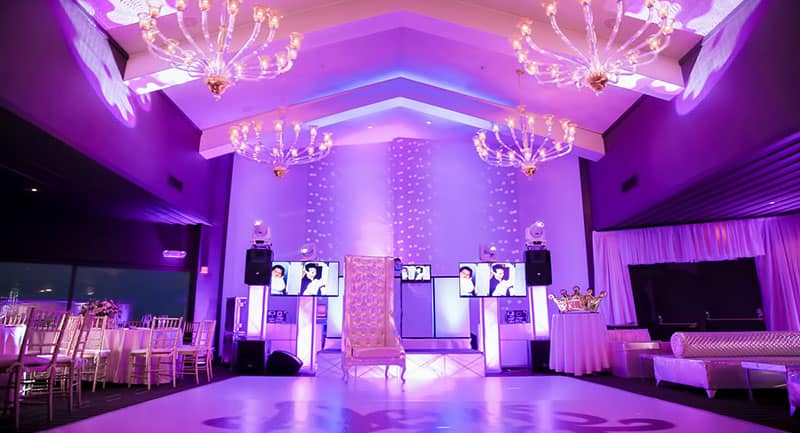 Ambient Lighting
Up lighting can enhance the entire atmosphere of an event. Ambient lighting adds warmth to any room and can be customized to match the color theme of your event, such as Brides Maid dresses or the color of your sweet 16 dress. The colors can change during the event or remain the same.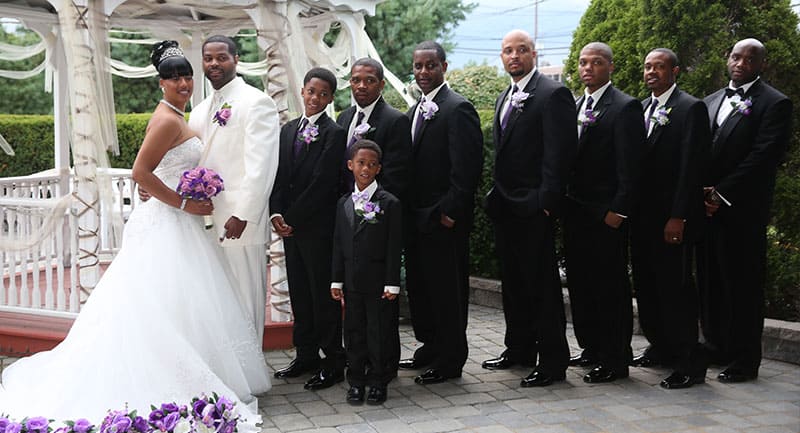 Ceremony Music Package
Includes a separate PA system (when necessary) for playback of musical choices. A wireless lapel microphone for the pastor and an additional wired microphone is available for readers and/or musicians.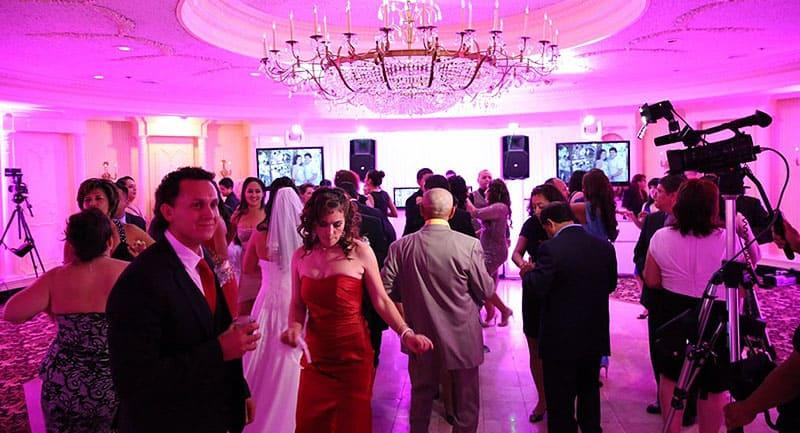 Cocktail Hour Music Package
Perfect for separate cocktail areas, outdoor spaces, multiple dining areas, or multiple floor venues.
Personalized Instagram Frames
Fun way to get your guests interacting at your celebration! You can add up to 10 customized hashtags of your event, and even your actual IG page.
The best part? It's yours to keep after your event!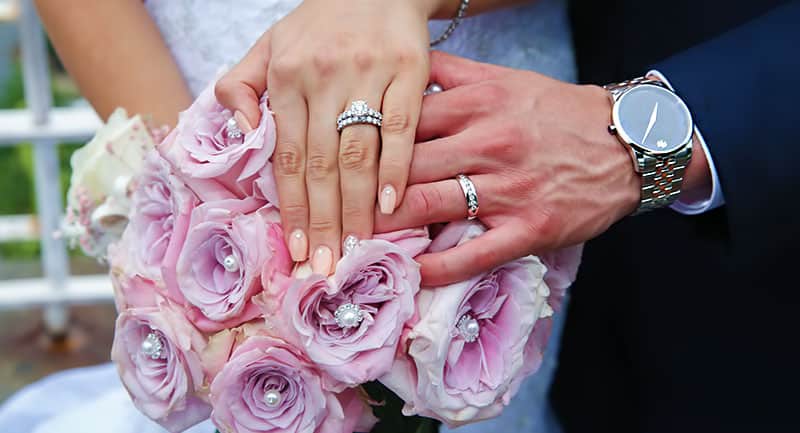 Photo Montage
Take you family and friends on a trip down memory lane with an Occasional Sound Montage. A photo/video montage tells a story of your most cherished memories, moments that you want to remember for a lifetime.